AGC OF NEBRASKA, BUILD NEBRASKA AWARD
AGC OF NEBRASKA, BUILD NEBRASKA AWARD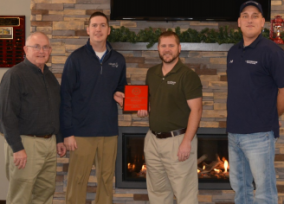 Beckenhauer Construction was honored this year to receive another Build Nebraska Award. This year our project at Midwest Bank in Pilger received honorable mention in the category of Building - Less than $5 Million.
This project was a new ground up facility, but it was so much more than that. June 16, 2014 twin tornados devastated the town of Pilger and destroyed the one and only bank in the small town. Shortly after the horrific events in June, Midwest Bank made their intentions known that they would rebuild. Because of our long relationship with Midwest Bank, we were there to help as soon as we could.
"Build NE" is about more than steel and masonry, flooring and paint. It's about the relationships we build during the building process. Our relationships are built upon trust, honesty and integrity. Evidence of this is our many repeat customers, such as Midwest Bank. Thank you for letting us partner on your many projects.