CELEBRATING OUR SUCCESS
CELEBRATING OUR SUCCESS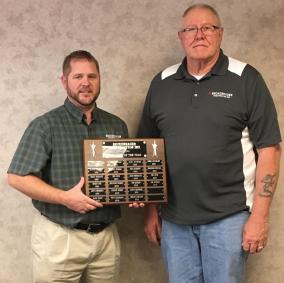 As the Holiday Season is upon is, we find ourselves reflecting on the past year and on those who have helped us shape our business. We never forget that without you, our clients, employees and building team partners, our business would not exist. We deeply thank you for your continued loyalty and support.
We received our ANOTHER AGC Safety Award this year! This recognition is earned for compiling an excellent safety record of zero safety incidences during the past three years. A big THANK YOU to Jeff Ackerman, our Safety Director, and all Beckenhauer employees for making this happen!
We received Honorable Mention in the AGC Build Nebraska Awards for our project at Box Butte General Hospital. The Build Nebraska Awards are intended to promote a greater appreciation of the work AGC member firms produce. Also, by recognizing the very best, we promote outstanding performance and quality construction throughout the entire state. This is the 8th time in as many years that we have received Honorable Mention or higher!
At our company year end meeting every year, we honor an Employee of the Year. After being selected by his peers we are excited to announce Don Shum as our 2017 employee of the year. Don has been a Superintendent for Beckenhauer for nearly 8 years and completed our largest recent project at the Box Butte General Hospital in Alliance earlier this year. Along with being on our safety committee Don is currently running the Cherry County Hospital Project in Valentine Ne. Thank you Don for all of your hard work and setting a good example for the rest of us.