Fairbury clinic now open
Fairbury clinic now open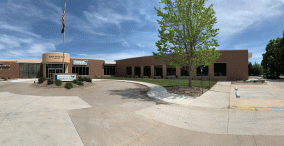 On May 12th, 2022 News Channel Nebraska published an article, Jefferson Community Health and Life's newest clinic set for Monday opening.
In the coming days, patients at Jefferson Community Health and Life in Fairbury will receive care in a brand new clinic.
"We are very excited for our patients to be able to have this wide open space, easy access to the patients rooms, bigger patient rooms and easier flow at check in."" JCH&L Clinic Administrator Ashley Norden said.
Norden says a big aspect of designing the new clinic was to promote better communication and teamwork. It features a centralized shared space for the nurses. Right across the hall are the providers offices.
JCH&L CEO Dr. Burke Kline says it's a big upgrade from the previous clinic where everyone was separated.
"That was one of the downfalls of our previous clinic," Kline said. "Everything was so broken up, it was hard for people to talk to each other. With this big area open for our nurses and physicians, it will be a lot more conducive and cohesive teamwork."
Another big feature is a new negative pressure zone. Kline calls it innovative way to protect patients and staff when someone with an infectious disease comes in for treatment.
The new clinic also utilizes bigger exam rooms, restrooms and hallways and check in area.
"The quality of work that Beckenhauer Construction and our [sub contractors] have done is immaculate," Kline said. "Very very impressed and very very pleased with the final product. It'll be great for the community."
All of it in the effort to provide better care for their patients.
"I hope they have a comfortable experience all the way through from registration, with their nurses, with their provider and they experience great customer service," Norden said.
https://southeast.newschannelnebraska.com/story/46481461/jefferson-community-health-and-lifes-newest-clinic-set-for-monday-opening?fbclid=IwAR3pSVQOqNR6hzbTReEMNEBE2AhyvWVDBeP5GsGc9c644wLuMJAS73kNMhA